3.1 Creating Your Account and Logging In
When you're ready to begin, click the "DarkSpace" icon on your desktop or from the Start menu. This will launch the DarkSpace's Client Update utility, then the Login window. At this point if you have not yet created an account on the DarkSpace Website you can create one here at the Login window. Creating an account in DarkSpace is free of charge, and you can login to GameCQ as an everyday player after filling out a few simple forms.

Creating a new account from either the website or Login window follows essentially the same process.

The Login window has a User ID and Password field. You will register these shortly if you haven't done so already. It also has Remember Password and Automatic Login checkboxes. The Remember Password box will remember the last password you entered, and the Automatic Login process will forego the login process entirely and log you in to whatever account you are using to log in with without prompting you for information. You can turn off Automatic Login AT ANY TIME from the GameCQ options.

Click on the "New Login" button to begin the account creation process. This can also be done from the DarkSpace website with the Login link (again, click "New Login"). You will see the following screen: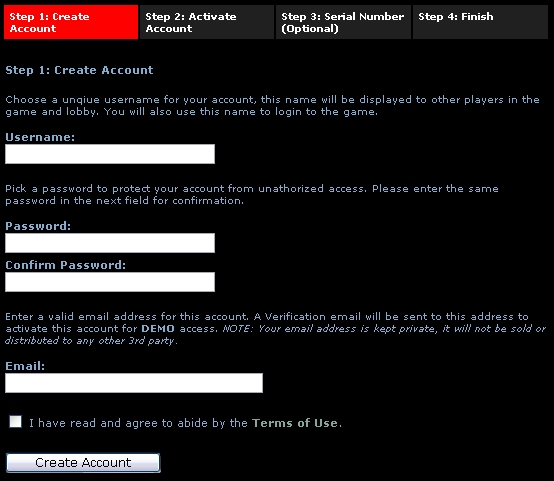 Step 1 of Account Creation

Here you will do three things:
o Enter your desired Username (Screen Name for use in game and chat lobby).
o Enter and confirm the password for your account.
o Enter a valid email address for use with your account.
o Confirm agreement with the DarkSpace Terms of Use.

Follow the simple instructions on the page to complete the form.

Note: The DarkSpace Administrative Staff cannot stress enough that you know what you're doing when you indicate agreement with the Terms of Use, or the DarkSpace Rules of Conduct. DarkSpace's community holds itself to very high standards, and it is not uncommon for new players to break rules such as using foul language because they don't know it's against the rules. Please skim the Terms of Use prior to checking the agreement box.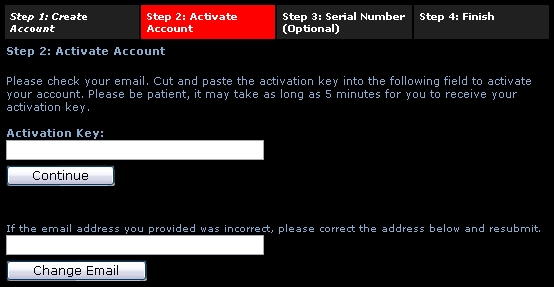 Step 2 of Account Creation

After completing step one, DarkSpace will immediately send you an email so that we can verify that your email was valid. If you entered the wrong email by accident, this screen gives you a chance to re-enter your email and click the "Change Email" button. The confirmation email will be resent. The email will contain a string of characters called your "Activation Key". Copy it into the Activation Key form on the Step 2 screen and click "Continue".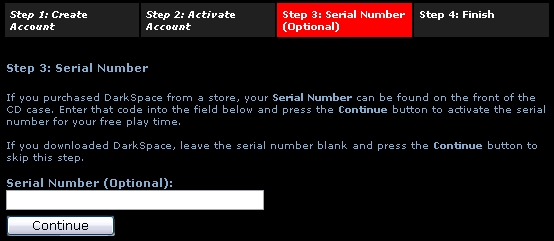 Step 3 of Account Creation

DarkSpace has a coupon system that is used to provide players with bonuses such as prestige or play time. Such a coupon has already been mentioned in Section 2.2, and Step 3 of the Account Creation process allows you to take advantage of that coupon, if you have it. Other coupons are often made available during special events by the Development Staff. They are not given without due cause.

If you purchased DarkSpace from a store, enter your CD-Key Coupon here for your free month and prestige benefits.




Step 4 of Account Creation

You're done! The final screen, as shown, provides you with a few important links that you may be interested in using. After you've created and validated your account, you are free to enter your information into the Login window and open GameCQ. Continue reading to learn how to play DarkSpace!